Rio Grande Regional Hospital Opens its Second 24 Hour Emergency Care Facility in Edinburg March 30, 2015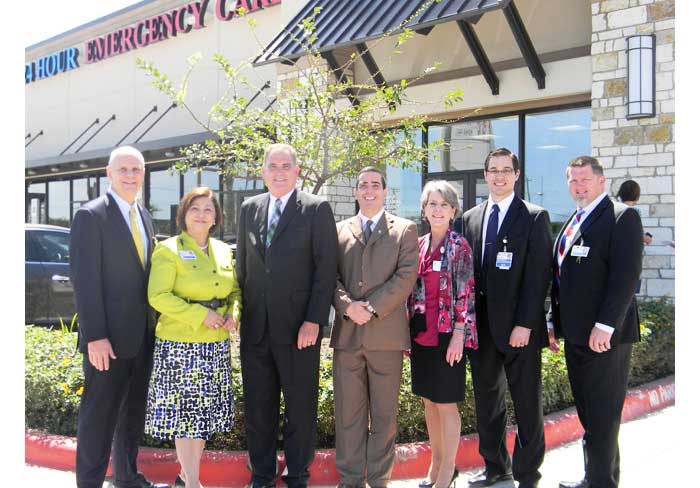 Photo Left to Right: Chuck Mallon, CFO, Cris Rivera, CEO at Rio Grande Regional Hospital, Dr. Michael Pawlowski, Dr. Carlos Ramirez, RGRH Freestanding Emergency Department Medical Director, Kathy Dassler, CNO, Mario Segura, RN, Clinical Manager and Brett Stock, RN, RGRH Freestanding Emergency Department Administrator
McAllen, TX – No one plans on accidents, injuries, or illnesses. From chest pain, sprains, broken bones, to middle-of-the night fevers, you can now access top quality care closer to home. The new Rio Grande Regional Hospital 24 Hour Emergency Care-Edinburg proudly opened its doors to the community and started seeing patients on March 30, 2015.
Rio Grande Regional Hospital 24 Hour Emergency Care-Edinburg is located at 2744 West University Drive in Edinburg, near the corner of South McColl and West University Drive. Patients from Edinburg and neighboring cities will now have fast, convenient care provided by board-certified physicians and a caring staff 24 hours a day, 7 days a week.
As a community leader in emergency services, Rio Grande Regional Hospital now has three emergency room locations. In addition to the new 24 Hour Emergency Care facility in Edinburg, and Rio Grande Regional Hospital's 24 Hour Emergency Care in the McAllen/Mission area, there is also the hospital's Advanced Level III Trauma Center/Emergency Department in McAllen.
"Adding the Edinburg facility is part of our commitment to continue meeting the health needs of a growing Valley community, and to provide all residents with superior medical care close to home," says Brett Stock, Administrator, Freestanding Emergency Department. "Valley residents have trusted Rio Grande Regional Hospital to meet their medical needs for over 32 years. We want that trust and reassurance to continue. So we're making it more convenient for them to receive immediate treatment when they need it most," he adds.
At any of Rio Grande Regional Hospital's emergency facilities all lab work and imaging (digital x-ray, CT scan, ultrasound) are performed and processed on-site to expedite care. An Emergency Department physician will interpret radiology and lab results, discuss your diagnosis, provide copies of results, and review follow-up care.
Emergencies are never planned, but when an emergency happens, you can count on any of the three Rio Grande Regional Hospital's emergency room locations to offer superior and compassionate medical care. We are proud to provide, Healthcare You Can Trust.
For more information on services at Rio Grande Regional Hospital, visit www.RioHealth.com.
News Related Content